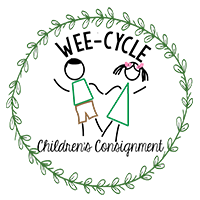 LARGE ITEM BONUS ~ Earn 70% on your qualifying "Large Items"
Earn 70% on your qualifying LARGE ITEMS~
Qualifications:
1) Enter 3 or more *LARGE ITEMS (priced over $35 each) by October 15th in inventory.
2) Fill out this form~ listing the three or more items that you entered with their item #s by October 15th. Make sure you include your consignor number!
3) Bring these items to DROP OFF! Your extra bonus will be added on to your check for the LARGE ITEMS.
*LARGE ITEMS: Large items may include (not limited too): stroller, carseat, booster seats, high chair, crib, toddler bed, power wheels, train table, rocker, pack n play, Little Tikes, outdoor play, bounce house, playhouse, doll house, bicycle, and more.
*LARGE ITEMS need to be priced $35 or more to be considered one of the three items. (Discount Yes is fine!)
*Wee-Cycle Children's Consignment will decide if something is considered a LARGE ITEM for this bonus.
*All items must be in EXCELLENT, working condition and free of stains, holes, or excessive wear. If any items do not meet the guidelines and decrease your number of large items below 3, then the extra bonus will not be added.
Clothing items are not considered LARGE ITEMS.
Sorry, but there are no certificates available for sale at this time.