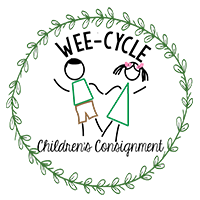 Instructions for Wee-Cycle To Go
Super easy steps...
We hope these steps will help make it easy for you to sell your items!!!
REGISTER AS A SELLER. Please register by clicking here.
PREPARE YOUR ITEMS.
Clothing does NOT need to be on a hanger for the TO GO sale!


Please attach multiple pieces.
Remember, the minimum price on an item is $3. You can group three sleepers together by securing with a zip-tie or a rubber band.
Attach tags in SEAM or LABEL. Do not pin on the front.

Shoes- secured together using shoelaces or zip ties. For TO GO sale, ziploc bags are fine. ( NO shoe boxes)
Toys/Books- use clear shipping tape to secure the tag to the item. Additional parts can be put in ziplock bags and taped onto the item. All parts must be connected. Use ZIP TIES! We will not accept toys if all parts are not securely put together!!!
Large items- You do not need to set them up at drop off.
All baby blankets, bibs, burp cloths, sacs, etc should be folded neatly. Ziploc bags may be used!
BABY ITEMS are WELCOMED and sell REALLY well!!!!! These must be clean of stains!!! (USE Clorox Wipes and wash all covers prior to bringing them in. Do not bring a stroller or carseat without washing it first)
ENTER YOUR ITEMS INTO INVENTORY. Click her to ENTER your items and click on "Work with My Consigned Items (Active Inventory)
Select the CATEGORY & SIZE. (Super important! If there is not a size, select "Leave Blank"
Write a DESCRIPTION- This will show up on the title of your item! SO make sure that it includes important information. List conditions if it is necessary. Use BRAND NAMES too so shoppers can search!
Use Conditions: NWT, NWoT, EUC, and GUC (New with tags, Excellent Used (looks new), Good Used (good consition)
Assign a PRICE (must be above $3, whole dollar amounts only)
Discount- Determine if you'd like this item to be reduced 50% during our 1/2 price sale or remain at full price.
Snap a picture of your item and add it. Pictures need to be JPEG and less than 5mB)
Click "This item is ready to be sold on-line"
Click "Submit Item"
Any item can be edited in order to change the price or add a picture.
The system will show only the last five items you've entered. There is a box to select to see all of the items.
When you are finished entering items, click on "I'm Finished for Now"
PRINT TAGS / ATTACH TAGS TO ITEMS Only SOLD items need to be tagged for the ON LINE sale. You might want to wait until after the sale to print your tags. Some consignors might elect to go ahead and tag ALL items so that the items are ready for any future sales. Click here to PRINT your TAGS
At the end of the sale, each consignor will receive a SOLD item list. These are the items that you will need to drop off at Wee-Cycle. Each item will need a SHOPPER CODE printed on the tag. You will be able to print SOLD TAGS and attach them to the items.
You will need WHITE cover stock paper, scissors or paper cutter, safety pins or tagging gun, clear packing tape
Align your print cartridges before printing your tags.
Print on NORMAL settings (not BEST)
Tags will print 6 to a page.
HINT: Notice that the tags are numbered so that you can put the tags in order to make it easier to tag your items.
If you have multiple items that you are selling for the same price, you can print multiple tags! (For example. You have 30 books that are each $3. Enter BOOKS one time and then enter quantity of 30! It will print 30 tags)
Attach TAGS

Clothing/Accessories- Please pin the tag to the tag or seam of the clothing (Under arm is suggested if needing to use.a seam. You are welcome to use a tagging gun but only on a tag or seam. Do NOT insert pin through the clothing on the front.
Shoes- Use string, ribbon, zipties, or rubberbands to attach the tag.. NO SHOE BOXES will be accepted.
All other items: Use safety pins or clear shipping tape to secure the tag.
DROP OFF~ Bring your SOLD ITEMS to your drop-off appointment time. If your time doesn't work, email us at WeeCycleChildrensConsignment@gmail.com to reschedule. You will receive more information!!!
READ WHAT TO SELL! Items that do not meet the guidelines will not be accepted.
Join our facebook group: Wee-Cycle Consignors Group and ask questions... Hopefully, lots of questions will help us!