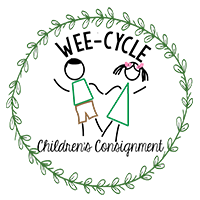 Drop Off Information
We want to make DROP OFF super easy! You must have a drop-off appointment. To make an appointment, click here! Please allow 30 minutes for drop-off.
Pull around and park in a parking spot. Come check in and get a rolling rack for your hanging clothes!
You will use the rack to hang your clothes in the appropriate place.
You will leave all other items on the designated tables.
Allow time to assemble large items~ furniture, toys, etc.
Carseats will require a checklist. You can fill it out when you arrive.
If you have any items priced above $50 you will be asked to fill out a simple form. If you have multiple items above $50, let us know and we will email the form to you!
A REMINDER.......Wee-Cycle Children's Consignment will NOT accept:
Drop side cribs
Twin or Full Mattresses (unless it is with a crib or toddler bed)
VHS tapes
Breast Pumps
Stuffed Animals
Jewelry
Undergarments/socks
Bedding/Linens (unless boutique)
All items that are brought to Wee-Cycle Children's Consignment that do not meet the guidelines will be donated if priced under $10. If priced over $10, items will be held for you to claim. These items will not be resorted with your other items. It will be your responsibility to look through them and claim your items.
Make sure you LIKE our Facebook Page to be the first to hear announcements and future sale dates! We will also add pictures daily!