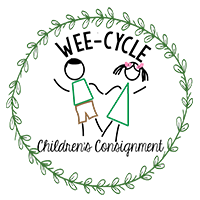 Vendors
We are excited to offer the opportunity for local vendors to reach out to our many shoppers and consignors.
Vendors- A 4 ft table will be set up for you and you can personally greet our shoppers as they wait in the check out line.
You have two options:
1) Pay $100. Man your table as little or as often as you like during the week. Collect your own $$$ or just "rep" your product.
2) Pay $40. Enter and tag your items into our system just like a regular consignor and make 75% of your sales. If you have pieces on hand to sell and you want to sell them even when you're not at your table, this is the right fit for you!
How it works:
1) Please email us at WeeCycleChildrensConsignment@gmail.com to confirm that no competitive/duplicate vendors are already signed up. (We only allow one vendor per business type. Max 10 companies) First Come First Serve!
2) Pay the invoice from Paypal.
3) During one of the Drop-Off shifts, you may set up your table. (A 4' table will be provided. You will need to provide a tablecloth if desired.) You are welcome to have flyers or samples to give away. Just make sure everything is labelled if you plan on leaving things on the table when you are not there.
4) Be present as much as you'd like during the sale.
5) Clean up your table the last 30 minutes of the sale on the closing day.
Vendors may shop early during the consignor shopping time before the sale opens to the public.
Vendors that sell products that compete with Wee-Cycle consignment items may be considered consignors at the discretion of Wee-Cycle management. In this situation, the items would be sold as consignment items. (Example: children's clothes, toys, books, etc)