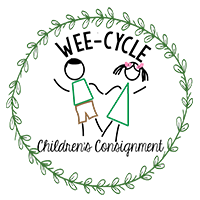 Consign
Are you interested in selling some of your gently used baby or children's clothes and baby equipment? It is easy and fun!
Our consignors earn 60% of their sale price and determine their own prices. (You can earn up to 70% by volunteering at our sale!)
Consignor Fee: $10
Consignors shop early at the Consignor Pre-Sale!
The first day to register for the FALL / WINTER sale will be September 1st!
FALL & WINTER clothing will be accepted at this sale! We will have a TON of space at our new location! Wee-Cycle Children's Consignment, 1100 East King Street, Boone
Important Dates for our consignors:
DROP OFF- October 25, 29, and 30
CONSIGNORS PRE-SALE- Thursday, November 2 4:00-6:00
PUBLIC SALE-
Our FALL/WINTER SALE Dates:
Friday, November 3 9:00-6:00
Saturday, November 4 9:00-6:00
Sunday, November 5 1:00-4:00
Friday, November 10 9:00-6:00 1/2 PRICE
Saturday, November 11 9:00-12:00 1/2 PRICE
PICK UP- November 16, 2017 11:00-1:00 or 5:00-7:00
REGISTER NOW as a CONSIGNOR for FALL/WINTER 2017 Sale!
Once you complete the registration, please return to this page)
Returning Consignors (Register or enter items)
Click here if you have already registered with MySalesManager and Wee-Cycle (Back To School 2017 Sale). You can also click here if you want to enter items or print tags of items that you've already entered.
Once you are registered, make sure that you read these instructions on how to prepare items for the sale.
Make sure you LIKE our Facebook Page to be the first to hear announcements and future sale dates! We will also add pictures daily!