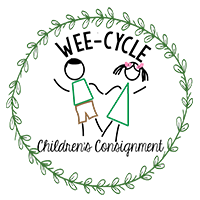 Consign
Are you interested in selling some of your gently used baby or children's clothes and baby equipment? It is easy and fun!
Our consignors earn 60% of their sale price and determine their own prices. (You can earn up to 70% by volunteering at our sale!)
Consignor Fee: $10
Consignors shop early at the Consignor Pre-Sale!
BACK TO SCHOOL and WINTER clothing will be accepted at this sale, in addition to toys, books, baby equipment, children's furniture, car seats, sporting equipment, and more. Visit WHAT TO SELL for more information!
Important Dates for our consignors:
DROP OFF: Monday, Aug. 12 and Tuesday, Aug 13 (make sure that you have an appt)
(Online Access will be available until Tuesday, August 13 at 11:59 am) for entering items or printing tags. After this time, registered consignors will not be able to enter any more items. There will not be a Re-Stock time for this sale.
CONSIGNORS PRE-SALE- Thursday, Aug. 15 3:30-7:00 & Thursday, Aug 22 5:00-7:00
PUBLIC SALE- Friday, Aug. 16- Saturday, Aug. 24 (hours listed on home page)
PICK UP- Monday, Aug 26 (5:00-6:00) & Tuesday, Aug. 27 (11:00-12:00)
Once you complete the registration, please return to this page)
Returning Consignors (Register or enter items)
Click here if you have already registered with Wee-Cycle Children's Consignment Sale on MySaleManager You can also click here if you want to enter items or print tags of items that you've already entered.
Once you are registered, make sure that you read these instructions on how to prepare items for the sale.
Make sure you LIKE our Facebook Page to be the first to hear announcements and future sale dates! We will also add pictures daily!